Authors listed alphabetically:
---
Bibliographic sketches listed chronologically:

The Art of Massage
A.
1895
288 pages
160 pictures and illustrations
Classic massotherapy book by an important historical figure.
---

Autobiography of A. T. Still
A. T. Still, D.O.
1897
461 pages
43 illustrations
Colorful autobiographical sketch by the founder of Osteopathy.
---

Osteopathy Complete
Elmer D. Barber, D.O.
1898
566 pages
50 illustrations
Comprehensive text includes treatments for many illnesses. Osteopathic philosophy and theory are covered.
---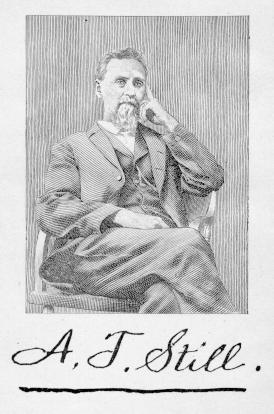 Philosophy of Osteopathy
A. T. Still, D.O.
1899
268 pages
No illustrations
Classic exposition of osteopathic concepts by the founder of Osteopathy.
---

The Practical Magnetic Healer
G. M. Brown
1899
256 pages
13 pictures
Professor Brown's approach integrates physical manipulation and energy medicine.
---

A Manual of Osteopathic Manipulations and Treatment
Wilfred L. Riggs, D.O.
1901
166 pages
32 pictures
This simple manual explains basic osteopathic theory and practice.
---
Essentials of Osteopathy
Isabel M. Davenport, M.D., D.O.
1903
102 pages
No illustrations
This is an excellent introduction to traditional osteopathy. The author relies heavily on the work of Hazzard, but the lectures on osteoapthic centers and physiological regulation via these centers are helpful for students new to these concepts.
---
The Chiropractor
D. D. Palmer
1904
115 pages
No illustrations
This brief text lays out the philosophy of chiropractice by its founder.
---

The Practice and Applied Therapeutics of Osteopathy
Charles Hazzard, D.O.
1905
442 pages
No illustrations
Comprehensive text includes treatments for many illnesses. Osteopathic philosophy and theory are covered.
---
History of Osteopathy
E. R. Booth, Ph.D, D.O.
1906
428 pages
28 images
This is a comprehensive and exhaustive treatise on the origins of osteopathy.
---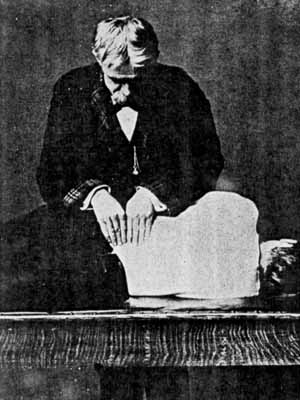 The Household Osteopath
Francis J. Feidler, D.O.
1906
211 pages
80 figures
"... by far the greatest amount of suffering is caused by contractured muscles pressing upon nerves and blood vessels" writes the author of this work intended for the layperson. Simple instructions for treating common ailments are provided. The reader is warned regarding specific conditions that require the services of an "expert osteopath."
---

The Abdominal and Pelvic Brain
Byron Robinson, M.D.
1907
671 pages
207 detailed anatomical drawings
Although Robinson was a medical doctor, his work was highly regarded and widely cited by the early osteopaths. This is a major treatise on the peripheral nervous system.
---
Neuropathy: The New Science of Drugless Healing Amply Illustrated and Explained
A. P. Davis, M.D., N.D., D.O.
1909
136 pages
78 pictures and illustrations
The self-proclaimed creator of "neuropathy", A. P. Davis integrated varied modalities including opthalmology, osteopathy, chiropractic, suggestive therapeutics, magnetic healing, diet, deep breathing, hydrotherapy into the practice of neuropathy.
---

A Manual of Osteopathy
(2nd Edition)
Eduard W. Goetz, D.O.
1909
174 pages
45 pictures
Another simple manual which contains basic information on osteopathic theory and practice.
---

Text-Book of Osteopathy
American College of Mechano-Therapy
1910
97 pages
15 Illustrations
General information and simplistic perspective of early osteopathy.
---

Mechanical Vibration
M. L. H. Arnold Snow, M.D.
1912
476 pages
12 plates, 58 illustrations
This is a comprehensive treatment of various forms of "mechano-therapy." The author provides extensive descriptions of nerve reflexes and how they can be effected via mechanical vibration, concussion, percussion, etc.
---

The Principles of Osteopathic Technique
A. S. Hollis, D.O.
1914
112 pages
50 illustrations
This small text is an excellent introduction to basic osteopathic manipulative therapy as practiced in 1914. The author does a good job of elaborating fundamental principles in a practical format. There is little discussion of specific conditions. Rather, the emphasis is on finding and correcting anatomical abnormalities.
---
Vibratory Technique
B. H. Brown, M. D.
1914
No illustrations
This text covers the use of the electric vibrator by a medical doctor to treat many of the same conditions as the early osteopaths and chiropractors.
---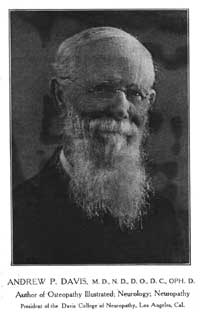 Neuropathy Illustrated
A. P. Davis, M.D., N.D., D.O.
1915
595 pages
52 pictures and illustrations
This is an updated version of his 1908 text on the same subject, including articles by several other authors expounding on related topics (such as diet, suggestive therapeutics, and healthy living).
---

Principles of Osteopathy (4th Edition)
Dain L. Tasker, D.O.
1916
531 pages
256 drawings and photographs
This is a impressive work in scope and depth. This book contains some wonderful explanations of nervous system coordination, vasomotor regulation, and osteopathic centers.
---
Osteopathic Technic
Ernest Eckford Tucker
1917
174 pages
No illustrations.
This text focuses on the basics on osteopathy. Chapter III titled "Neuropathic Lesions and Specific Centers" is a fascinating discussion on physiological regulation via osteopathic manipulation.
---
Spondylotherapy Simplified
Alva Emery Gregory, M.D.
1922
178 pages
No illustrations.
"A compendium of the science of spinal concussion and sinusoidalization and the technique of their administration; the specific centers of the nerve origin through which we control the function of various viscera; the results of simulation of the different spinal centers of nerve origin, what affected and how, and directions for the correct application of those methods in the treatment of diseases amenable to them."
---

Applied Anatomy of the Lymphatics
F. P. Millard, D. O.
1922
278 pages
90 illustrations
This is a wonderful treatise on lymphatic theory and technique with especially useful information on osteopathic finger surgery technique.
---

The Naturopathic Method of Reducing Dislocations
F. W. Collins, M.D., D.O., N.D., Ph.C.
1924
112 pages
47 photographs.
This brief little book deals strickly with dislocations, relying primarly on photos with little text.
---

Practice of Osteopathy: Its Practical Application to the Various Diseases of the Human Body
(6th Edition)
Charles H. Murray, D.O.
1925 (First Edition was published in 1909)
419 pages
111 halftone photographs
Practicality is emphasized in the style and content of this manual. General information is provided with specific protocols for the various diseases.
---
Writings of Dr. J. Martin Littlejohn, Ph.D., M.D., D.O., L.L.D.
This is a small collection of articles by a well-respected physician and teacher. These articles discuss such fascinating topics as: the role of vital life-force energy, co-ordination of this vital energy via therapeutics, and basic anatomy and physiology from an osteopathic perspective. I don't have a date for these articles.
---

The Buxton Technological Course in Painless Chiropractic
A. G. A. Buxton, D.C.
1926
127 pages
37 photographs
This brief text covers the basics of chiropractic technique.
---
---
Thumbnail Graphics:
"Thumbnail graphics" are available to provide a sense of the extentive graphics contained in the original sources.
---
EAMT CD:
A CDROM version of the Early American Manual Therapy collection with full graphics is available at the
McMillin Media
website.

Copyright © 2005 by David McMillin, all rights reserved.