Eberhart's Manual of High Frequency Currents

Noble M. Eberhart

1911

CONTENTS


Title Page (graphic)

Nicola Tesla (graphic)

Noble M. Eberhart (graphic)

Introduction

Chapter I.
Definition of High Frequency Current; Alternation; Cycle; Period; Oscillation; Frequency; Lighting Vacuum Tube Not Proof of High Frequency Current.

Chapter II.
The Development of the Current; Leyden Jars; Plate Condensers; Electrical Oscillation.

Chapter III.
Types of Apparatus; D'Arsonval Type Tesla Transformer; Impedance; Oudin's Resonator; Measuring the Current.

Chapter IV.
Various Forms of Vacuum Tubes; Effects of Different Vacua; Insulated Tubes; Fixed and Adjustable Socket Handles; Spatulate Tubes.

Chapter V.
Physiological Action of the Current; High Frequency Burns; Offsetting Tendency to X-ray burns.

Chapter VI.
General Technique; Vacuum Tubes; Lubrication; Cautions; Asepsis; Standardizing Dosage; Preparation of Patients; Technique for Skin Diseases; Relief of Pain; Cauterization; Orificial Technique; Cataphoresis; Fulguration; Auto-Conduction; Auto-Condensation; Portable and Home-Made Pads; Surgings; Water Spray; Local Auto-Condensation; Indirect Sparks; Taking the Blood Pressure.

Chapter VII.
Special Technique for Ear, Eye, Nose, Rectum and Prostate, Scalp, Throat, Urethra and Vagina.

Chapter VIII.
Practical High Frequency Therapy, Diseases and Symptoms Alphabetically Arranged with Methods of Treatment.

Chapter IX.
Ozone; Nature; Physiological Action; Methods of Administration; Diseases in which It Is Indicated.

Chapter X.
High Frequency X-Ray; Its Scope and Limitation; Resume of Skiagraphic and Therapeutic Technique.

Chapter XI.
Diathermy; Electro-coagulation; Thermo-penetration.

Chapter XII.
High Frequency in Dentistry.
---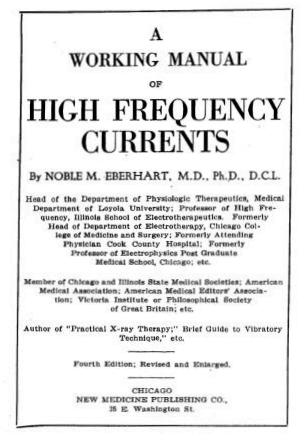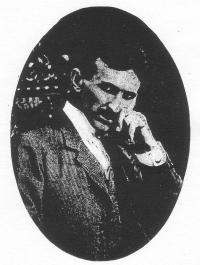 Nikola Tesla, Inventor of the Tesla Coil-Courtesy "Electrical Review and Western Electrician."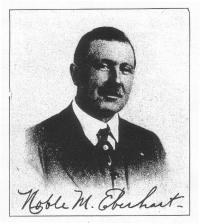 INTRODUCTION.

The literature on High Frequency Currents is not extensive and most of it is too technical for the average physician, who is more interested in the application of these currents than he is in the precise manner in which they are generated.
For this reason I have given comparatively little space to the consideration of the various forms of apparatus, other than to outline the types upon one or another of which all of the machines are based.
Further information along this line is properly within the sphere of the various manufacturers
My intention has been to make this a practical hand-book for the busy physician who wishes to use high frequency currents and to learn how to do so with as little "red tape" as possible.
I have expressed my individual opinion on many points, and sometimes this may be found at variance with that of other authors, but it is based upon eighteen years' practical experience involving the daily use of High Frequency Currents and upon sixteen years' experience in teaching the subject.
My indebtedness for data furnished is acknowledged to Drs. W. B. Snow, W. H. King, H. E. Waite, F. de Krafft, R. A. Black, E. C. Titus, H. F. Pitcher, S. Stevens, R. E. Farmer, and Messrs. F. H. Swett, J. B. Wantz, Wm. Meyer, Samuel T. Hutton, Edwin L. Edwards, H. L. Kahl, F. A. Wiggin, R. and F. H. Wappler, T. B. McClintock, C. E. Anderson, M. Sanchez, J. E. Clapp, H. W. Young and Wm. Stahl.

THE AUTHOR

25 E. Washington St., Chicago